Carl P Bolleia
Professor • Department of Music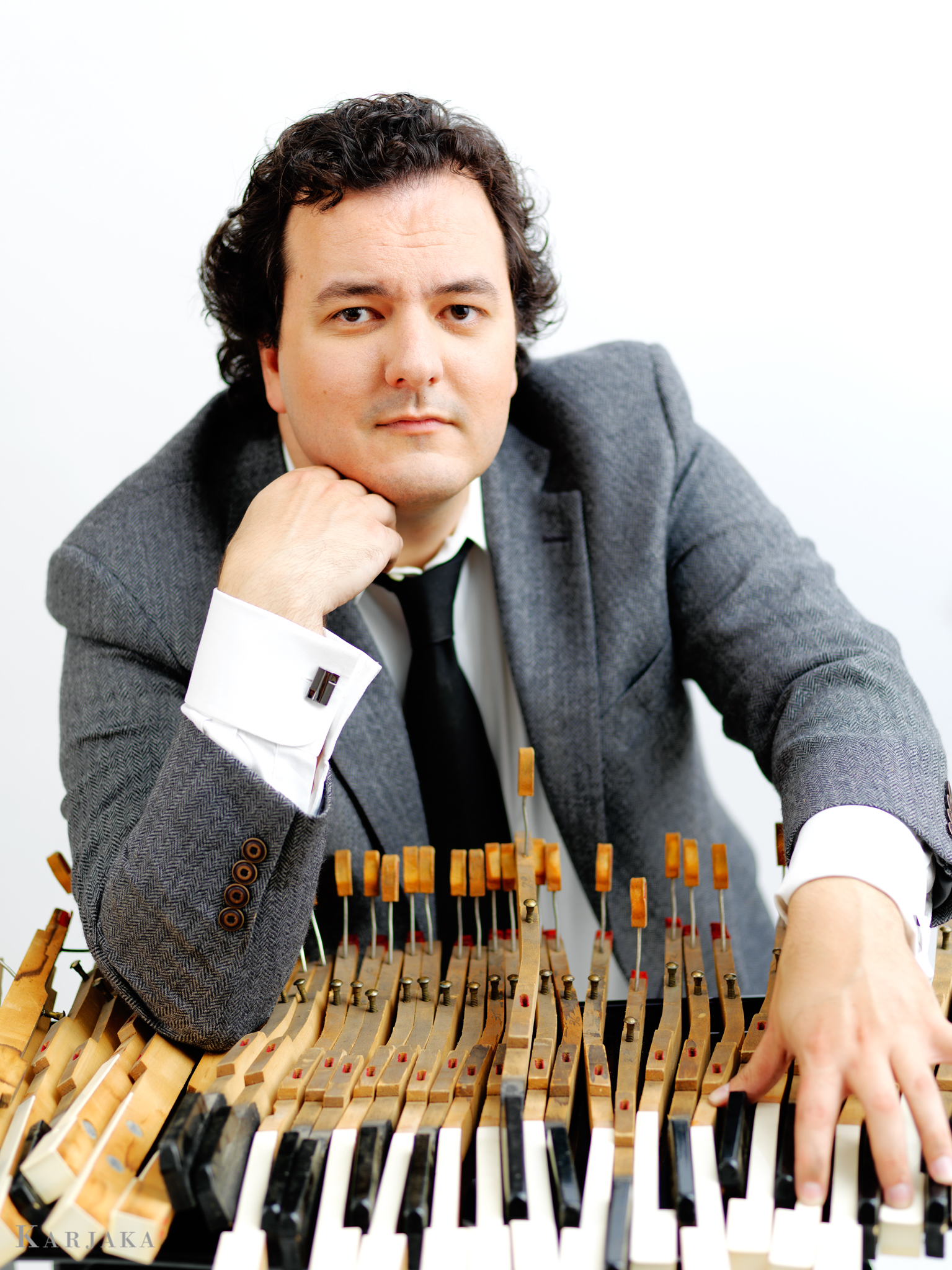 With performances and recordings featured by The New York Times, The New Yorker, Gramophone, New York Classical Review, American Record Guide, Fanfare and more, Carl Patrick Bolleia has performed as pianist and historical keyboardist throughout North America, Europe and China, at venues including Carnegie Hall Stern Auditorium and Weill Hall, Alice Tully Hall, Philharmonie de Paris, Merkin Hall, NJPAC, Bargemusic, le poisson rouge, and Spectrum.

As a collaborative artist, he has performed with musicians of the The Metropolitan Opera Orchestra, New York Philharmonic, Juilliard415, and more. He has recorded for Composers Concordance Records distributed by Naxos and MSR Classics.

Dedicated to contemporary music and historical performance, his large scale commissioning project of works for diverse keyboard instruments, entitled tintinnabulation.bloom, features inaugural compositions by the world's leading composers, including Frederic Rzewski, Tyshawn Sorey and Stephen Hough.

Active also in digital media and music industry, as a composer, pianist and arranger, he has composed and recorded multiple scores for Audible by Amazon and for the 125th Anniversary Campaign of Dr. Pepper.

Dr. Bolleia received the Graduate Diploma in Historical Performance from The Juilliard School on a full scholarship and the Doctor of Musical Arts from Mason Gross School of the Arts at Rutgers University, with his dissertation, "A Taxonomy of Musical Gesture and a Hermeneutic of Narrative and Diatonic Continuity in the Piano Music of Charles Wuorinen." At Rutgers, he was awarded the Elizabeth Wyckoff Durham Award for Academic Distinction and Excellence in Piano and Organ Performance, the Arthur G. Humphrey Memorial Prize in Collaborative Piano, and the Edna Mason Scholarship.

He received the Robert Starer Award for the Performance of a Work by a Living Composer at The City University of New York Brooklyn College, where he holds a Masters of Music Degree. He is a proud graduate of William Paterson University, holding the BM in Music Education, where received the Dean's Award for Outstanding Musician and the Music Scholar Award. During his time as a student at William Paterson, he was one of innaugural receipients of the Tami Cotsakos 71' Scholarship and named a Legacy Scholar.

He cites his tutelage under a variety of pianists and keyboardists to be most profoundly influential, especially with Ursula Oppens, Alan Feinberg, Peter Sykes, Min Kwon, Gary Kirkpatrick, Richard Egarr, Béatrice Martin, Avi Stein, Skip Sempé, Jerome Lowenthal, Fred Hersch, Nicolas Hodges, Warren Jones, and Dr. Billy Taylor.
Professional Interests
Modernism in Piano Repertoire, Frederic Rzewski, Charles Wuorinen, Latin American Baroque Music, French Baroque, Historical Performance Practice, Early Keyboards, Taubman Approach, Gregorian Chant, Musical Gesture, Topic Theory 
Degrees
GD Historical Performance, The Juilliard School New York, NY
DMA Piano Performance, Rutgers, The State University of New Jersey Mason Gross School of the Arts ,
MM Piano Performance, The City University of New York Brooklyn College ,
BM Music Education, Piano , William Paterson University ,
Specialization
Piano, Contemporary Music/New Music, Historical Performance, Chamber Music, Piano Literature, Piano Pedagogy
Licenses and Certifications
05/31/2008
Certified Teacher, K-12 Music, State
Representative Presentations

Melody as Muse: Keyboard Continuity Through Song and Genre
Polycultural America Lecture Series H. Wiley Hitchcock Institute for Studies in American Music
Brooklyn, NY 2019

African-American Influence and American Piano Music of the 20th Century: Three Composers Celebrate 80
College Music Society 2018 National Conference College Music Society
Vancouver, 2018

Jazz Composers and a New Concert Music
The Intersection of Jazz and Classical Piano Conference
Morgantown, WV 2015

The Piano Music of Frederic Rzewski
NUNC! 1 Northwestern University New Music Conference Northwestern University New Music Conference
Evanston, IL 2014

Harpsichord Works of György Ligeti and More
Liszt and Hungary
Ann Arbor, MI 2021
Awards and Honors
The Elizabeth Wyckoff Durham Award for Excellence in Piano or Organ

01/01/2017
Arthur G. Humphrey Memorial Prize in Collaborative Piano

01/01/2015
The Robert Starer Award for Performance of a Work by Living Composers

01/01/2010
Media
Upcoming and Noteworthy: Piano Concerto "In the Beginning", Jinsil Lee, Composer; Carl Patrick Bolleia, Piano Soloist; Mark Hyczko, Conductor; New Brunswick Chamber Orchestra
https://www.wwfm.org/
https://www.wwfm.org/upcoming-and-noteworthy/2017-06-01/new-brunswick-chamber-orchestra-on-fridays-noontime-concert-ginastera-fairouz-and-more
The Greene Space at WNYC & WQXR: WQXR's Midday Masterpieces: Juilliard's Historical Performance Program
https://thegreenespace.org/
On Wednesday, May 6 at 1 pm ET join us for a special quarantine edition of Midday Masterpieces, featuring artists from Juilliard's Historical Performance program.

Tombeau de Monsieur Blancrocher, Louis Couperin (1626-1662)
Carl Patrick Bolleia, Harpsichord



Beyond the Keys
https://www.wwfm.org/
The title of this week's Between the Keys episode says it all: "Pianists You Should Know. Jed Distler, the Classical Network's Artist-in-Residence, presents recordings featuring.... Carl Patrick Bolleia.... and a pianist who is better known as a composer, yet whose piano playing was often underrated: the great Duke Ellington.
Tune in Tuesday September 27th at 10 PM, with a rebroadcast Wednesday September 28th at noon, exclusively on The Classical Network and WWFM.org.


Performances and Exhibits
Here and Now Winter Festival: "More Music Parts I, II, & II", Frederic Rzewski (US Premiere); "Houdinization Suite", David Taylor (World Premiere), January 2023
Performance

Bargemusic
Promenade Musicale, December 2019
Performance
Juilliard415
Cité de la musique, Philharmonie de Paris, Ampithéâter, Paris, France
Madness and Folly, Night Music from Spain, October 2019
Concert
Juilliard415
Alice Tully Hall, New York, New York
Music as Living Art, June 2019
Recital
Featuring the World Premiere of "Let it Shine" by Frederic Rzewski
Carnegie Hall, New York, New York
Dynamic Americas, September 2017
Recital
Chinese Premieres of American Composers: Robert Aldridge, Whitney George and Charles Wuorinen,
La Plantation Concert Hall 璃墟剧场 Beijing, China
Fellowships, Grants and Research
Academy of Fortepiano Performance
Fellowship


Notable Courses Taught
Applied Music (Piano and Harpsichord); New Music Ensemble; Honors Capstone Thesis; Piano Literature; Piano Pedagogy