Ana Cristina Siqueira
Professor • Management, Marketing and Professional Sales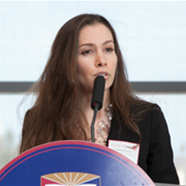 Ana Siqueira (PhD, University of Cambridge) is Associate Professor of Management, and Director of the Center for Socially Responsible Entrepreneurship and Innovation
(https://www.wpunj.edu/ccob/csrei/) at the Cotsakos College of Business, William Paterson University. She is an award-winning educator and has been teaching face-to-face, hybrid, and online courses at the undergraduate and graduate levels since 2009. In 2014, she received a university-wide Creative Teaching Award at Duquesne University for co-revising the Strategic Management course aligned with the Principles for Responsible Management Education (PRME). This revised course received a commendation by the Association to Advance Collegiate Schools of Business (AACSB). Her pedagogical innovations have appeared in publications such as the Journal of International Business Education as well as International Journal of Innovation and Sustainable Development. Dr. Siqueira's was a Benavitch Scholar in St Catharine's College at the University of Cambridge in 2007-2009 and she was hosted in 2008-2009 in the Industrial Performance Center at the Massachusetts Institute of Technology (MIT). Her professional experience includes almost five years in financial services organizations such as Citigroup, where she developed business planning and new strategic initiatives involving communication and information technology. Her articles have appeared in premier publications such as Journal of Business Ethics, Entrepreneurship Theory and Practice, and Journal of Business Venturing. She was recognized by ROI-NJ Media Company in 2021 as an Influencer in Social Equality and Equity. She received a Social Entrepreneurship SIG Award for Excellence in Practice and Service in 2022 from the United States Association for Small Business and Entrepreneurship (USASBE).
Professional Interests
She is an Editorial Board Member of the journals Entrepreneurship Theory & Practice and Cross-Cultural & Strategic Management. She served as elected officer in the Teaching Community of the Strategic Management Society, as well as the Organizations and Natural Environment Division of the Academy of Management.
Other Interests
Her interests include entrepreneurship and innovation. A paper from her PhD dissertation received a Research Promise IDEA Award and a Michael H. Mescon/Coles College of Business Best Empirical Paper Award. A later version of this paper with A. Cosh titled "Focusing on one capability at a time: Patterns in the use of innovation activities and implications for young firms" is published in the International Journal of Entrepreneurship and Innovation Management, and a video is available at https://wpunj.yuja.com/V/Video?v=1320575&node=4983015&a=440511375&autoplay=1. Her research was nominated for a Carolyn B. Dexter Award by the Academy of Management and a related video of her article with S. Mariano and J. Moraes titled "Supporting Innovation Ecosystems with Microfinance: Evidence from Brazil and Implications for Social Entrepreneurship" in the Journal of Social Entrepreneurship is available at https://wpunj.yuja.com/V/Video?v=1147080&node=4254626&a=552267490&autoplay=1. A video of her article with B. Honig, S. Mariano, and J. Moraes titled "A commons strategy for promoting entrepreneurship and social capital: Implications for community currencies, cryptocurrencies, and value exchange" published in the Journal of Business Ethics is available at https://wpunj.yuja.com/V/Video?v=1320622&node=4983111&a=1970445592&autoplay=1. For this article, Dr. Siqueira received in 2021 from the Stillman School of Business at Seton Hall University and the New Jersey Collegiate Business Administration Association (NJCBAA) a Bright Idea Award.
Languages (other than English)
Portuguese
Degrees
PhD Management, University of Cambridge Cambridge, United Kingdom
MA Sociology, University of Florida Gainesville, FL
MA Latin American Studies, Stanford University Stanford, CA
BBA Business Administration, Fundacao Getulio Vargas Sao Paulo, Brazil
Specialization
Strategic management, entrepreneurship, international business, and management of technology and innovation
Representative Publications

Creating economic, social, and environmental change through entrepreneurship: An entrepreneurial autonomy perspective informed by Paulo Freire. (Forthcoming) Journal of Business Venturing Insights.; Journal of Business Venturing; 2023
https://authors.elsevier.com/sd/article/S2352-6734(23)00015-X

The consequences of financial leverage: Certified B Corporations' advantages compared to common commercial firms. ; Journal of Business Ethics; 2023
https://rdcu.be/c5DYx

A commons strategy for promoting entrepreneurship and social capital: Implications for community currencies, cryptocurrencies, and value exchange; Journal of Business Ethics; 2020
https://rdcu.be/b5P31

Entrepreneurs' ingenuity and self-imposed ethical constraints: Creating sustainability-oriented new ventures and knowledge; Journal of Knowledge Management; 2019
https://wpunj.yuja.com/V/Video?v=1316799&node=4970112&a=1121587381&autoplay=1

A longitudinal comparison of capital structure between young for-profit social and commercial enterprises; Journal of Business Venturing; Volume 33, 2018
https://wpunj.yuja.com/V/Video?v=1160766&node=4286662&a=264305653&autoplay=1
Representative Presentations

Developing networks of entrepreneurs, educators, and students for social responsibility: Increasing impact of scholarship via academic certificates for broader audiences.
Management and Social Justice Conference The New School
, 2023

Socially responsible women-led enterprises: Aligning economic, social, and environmental values while supporting the Sustainable Development Goals.
Management and Social Justice Conference The New School
, 2023

Role of Entrepreneurial Ingenuity and Information Technology in Enhancing Women Entrepreneurs' Response to Environmental Change
Social Entrepreneurship Conference Indiana University and University of Southern California
, 2021

The consequences of leverage in commercial versus B Corp social enterprises
Global B Corp Academic Community Roundtable
Los Angeles, 2019

Social Investing By Women Entrepreneurs In Resource-Constrained Environments: Entrepreneurship As Search For Autonomy
2019 Diana International Conference on Women's Entrepreneurship Research Boston College
Boston, MA 2019
Awards and Honors
Social Entrepreneurship SIG Award for Excellence in Practice and Service
United States Association for Small Business and Entrepreneurship (USASBE)
01/07/2022
Bright Idea Award
Seton Hall University, Stillman School of Business, & New Jersey Collegiate Business Administration Association (NJCBAA)
10/27/2021
Creative Teaching Award
Duquesne University
04/01/2014
Nominated for Carolyn B. Dexter Award
Academy of Management
08/01/2013
Research Promise IDEA Award
Entrepreneurship Division, Academy of Management, & University of Connecticut, Center for Entrepreneurship and Innovation
01/01/2010
Media
ROI Influencers: Higher Education 2022 - Entrepreneurship
https://www.roi-nj.com/2022/08/23/roi-influencers/higher-education/2022-higher-education/entrepreneurship/roi-influencers-higher-education-2022-ana-siqueira/
Influencer in Entrepreneurship Education
Making a positive social impact on new generations of leaders and entrepreneurs, Lucy Cavendish College, University of Cambridge
https://www.lucy.cam.ac.uk/blog/making-positive-social-impact-new-generations-leaders-and-entrepreneurs

ROI Influencers: Higher Education 2021 — Deans and Directors, ROI NJ
https://www.roi-nj.com/2021/08/25/roi-influencers/higher-education/2021-higher-education/roi-influencers-higher-education-2021-deans-and-directors/
Influencer in Social Equality and Equity
Building A Digital Community Of Global Entrepreneurs
https://www.degroote.mcmaster.ca/articles/building-a-digital-community-of-global-entrepreneurs/

Virtual incubator trains entrepreneurs to bounce back from COVID
https://brighterworld.mcmaster.ca/articles/benson-honig-ingenuity-incubator/

Notable Courses Taught
Principles of Management, MGT 2000
Values, Ethics, & Sustainability, MGT 3550
Business Strategy and Policy, MGT 4600
Entrepreneurship, ENT 7010
Minority-Led and Social Entrepreneurship, MGT 7990