Venkatanarayanan Sharma
Professor • Dean College of Science and Health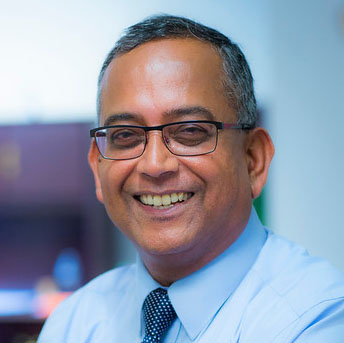 Venkat Sharma, Ph.D. is the Dean and Professor of Biology, College of Science and Health at William Patterson University (WPU), Wayne, New Jersey 07470, since July 2017. Dr. Sharma oversees nine departments, consisting of approximately 300 full and part-time faculty and 2,600 students. Before joining WPU, he served as the Founding Dean of the School of Natural and Mathematical Sciences and Professor of Biology at SUNY Oneonta from July 2013 to July 2017. As the chief academic and executive officer of the School of Natural and Mathematical Sciences, Dr. Sharma oversaw five departments, a biological research station, the Science Discovery Center, and several programs consisting of 102 full-time faculty and 1,300 students. Dr. Sharma served as Dean and Professor of Biology, at the School of Natural Sciences and Mathematics at the University of West Alabama (UWA), Livingston, AL (2009-2013). Dr. Sharma participated in the Millennium Leadership Initiative of the American Association of State Colleges and Universities (AASCU) in the summer of 2017, and in the Management of Leadership Education (MLE) program at Harvard University during the summer of 2011. He is a member of the Arden seminars. Before his appointment at UWA, he had held several academic leadership positions at the University of West Florida (UWF) as Associate Dean/Administrative Fellow in the College of Arts and Sciences; Professor, Department of Biology; and Director, of Health Sciences Advisory Programs. Dr. Sharma conducted research in transcription and cytokine biology as Research Scientist at the Arthur James Cancer Center, Ohio State University, Columbus, OH, and also as a Project Investigator/Post-doctoral Fellow at the MD Anderson Cancer Center, Houston, TX.

Dean Sharma has over 31 years of teaching and research experience in Immunology, Nano-Immunology, Biochemistry of Leukemia, HIV-associated B-cell lymphomas, Biomedical Ethics, and allied subjects. Dean Sharma has published extensive research papers, abstracts in research journals, and proceedings at various national and international conferences. He has mentored over a hundred undergraduate students in research (46 of them are women and minorities), has supervised ten graduate thesis and six postdoctoral fellows, and 12 early-career scientists in the STEM discipline. His co-authored work has been cited by scores of global investigators including Dr. Jonas Salk, inventor of the Polio Vaccine. Dean Sharma continues to serve on the editorial board of the Journal of Complementary and Alternative Medicine and has been the reviewer for several grant agencies and various research journals. He has also reviewed book chapters for Molecular Biology of the Gene, 5th Edition, by James D. Watson (Nobel Laureate) et al., and Fundamental & Applied Immunology. Dr. Sharma has received multiple grants from the US Department of Education HSI grant (ASPIRE)- PI, MaCS scholar SSTEM grant from NSF as S-STEM administrator, Merck & AAAS, PBI formula grants from the Department of Education, and private foundations. Dean Sharma has initiated several outreach and service-learning activities at SUNY Oneonta, UWA and UWF, such as Science Saturdays, Women in Sciences Educating Girls engaged in Math and Science (WISE GEMS), faculty forum to develop a community of learners, Share Science, and Undergraduate Research Symposium (URS@NSM). Dean Sharma established research laboratories in plant genomics, environmental studies, watershed studies, and the Laboratory of Cytokine Research for the first time in the 175-year history of UWA. He also helped create a leadership program for faculty development.

Dean Sharma is a recipient of numerous awards and honors. A few highlights are: he has been nominated for the Presidential Awards for Excellence in Science, Mathematics and Engineering Mentoring (PAESMEM) 2011, recognized for distinguished service to the Friends of India Association (FIAT), Tuscaloosa, AL 2011; recipient, outstanding Faculty Advisor Award, UWF Student Activities Division, 2009; recipient, Excellence in Undergraduate Teaching and Advising Award, UWF 2008; recipient, President's Award for Leadership in Diversity, UWF 2006; recipient, Annual Distinguished Teaching Award, UWF Student Government Association 2005; recipient, Excellence in Undergraduate Teaching and Advising Award, UWF 2005 & 2001; recipient, Nautilus Excellence Awards: Gabor Award (University Wide) UWF 2004; recipient, Teaching Incentive Program (TIP) Awards for excellence in teaching, UWF 2003 and 1998; finalist, Father of the Year 2002 Escambia County Award, Chief Judge's Children's Council (CJCC), Florida; recipient of the Distinguished University Research and Creative Activities Award, UWF 2001; and was nominated for the volunteer of the year award at R.C. Lipscomb Elementary School 2000.

Dean Sharma has traveled to Canada, France, Great Britain, India, Italy, Mexico, Monaco, Monte Carlo, New Zealand, Oman, Singapore, and the USA.
Degrees
PhD Biochemistry/Microbiology, University of Madras, Cancer Institute , India
Specialization
Immunology, Virology, Biomedical Ethics, Cytokine Biology