Eunsun Park
Professor • Communication Disorders and Sciences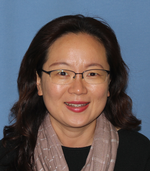 Dr. Park is an assistant professor at William Paterson University in NJ. She has conducted various research projects involving linguistic and emotional prosody and eye movement behavior in normal and disordered populations, especially individuals with
Parkinson's disease. She has presented her research projects at both national and international venues.
Professional Interests
Dr. Eunsun Park's research involves using acoustic analysis and eye tracking methodology to understand the influence of reading skill and reading mode on prosody (e.g., intonation, intensity, speech rate, and speech rhythm) and cognitive function in people with or without Parkinson's disease. 
Other Interests
Playing piano & cello, traveling, photography
Languages (other than English)
Korean
Degrees
PhD Speech-Language Pathology, University of Oklahoma Health Sciences Center Oklahoma city, OK
Specialization
Motor Speech Disorders in Parkinson's Disease
Representative Publications

Prosodic Improvement in Persons with Parkinson's Disease Receiving SPEAK OUT!® Voice Therapy; , Folia Phoniatrica et Logopaedica; Volume 70, 2018

Long Haul COVID-19 Videos on YouTube: Implications for Health Communication.; Journal of Community Health; 2022

Clinical assessment information of online videos about Parkinson's disease;
http://300 Pompton Road

Information Regarding Acute Stroke Associated with COVID-19 in Online News; , Journal of Prevention & Intervention in the Community; Volume 49, 2021

Online News Coverage of COVID-19 Long Haul Symptoms.; Journal of Community Health; 2021
Representative Presentations

Content of Parkinson's disease in YouTube Videos
Research and Creativity Week, November 10-13, 2020 , Boutsen, F., Jahren, A., & Basch
Las Cruces, NM 2020

Effect of Voice-Dance Therapy on Vocal Quality in Individuals with Parkinson's Disease.
Annual Convention of the American Speech Language Hearing Association American Speech Language Hearing Association (ASHA)
San Diego, CA 2020

Eye Movement Behavior in Bilingual Reading
39th Annual WPU Bilingual Education/ESL Conference William Paterson University
Wayne, NJ 2019

Quantifying Oral-Diadochokinesis (DDK) after SPEAK-OUT! Voice Therapy in Individuals with Parkinson's Disease
American Speech Language Hearing Association Conference
Boston, MA 2018

Reading prosody in individuals with Parkinson's disease using the Acoustic Multidimensional Prosody Index.
Convention of the American Speech-Language-Hearing Association American Speech-Language-Hearing Association
Orlando, FL 2019
Awards and Honors
Career Development award
William Paterson University
04/03/2019
Financial Research support
Parkinson Foundation of Oklahoma
07/31/2019
Notable Courses Taught
Introduction to Communication Disorders
Senior Seminar I
Acquired Language Disorders in Adults
Motor Speech Disorders
Voice Disorders