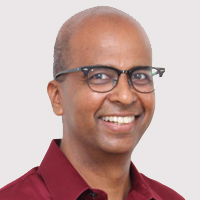 Dr. Balmurli Natrajan is Professor of Anthropology in the Department of Community Development and Social Justice at William Paterson University of New Jersey, USA. An anthropologist, marine engineer, and software developer by training, his research and teaching is on Group formation; Caste, Race; Identity & Inequality; Culture; Development; India. Dr. Natrajan's book "Culturalization of Caste in India: Identity and Inequality in a Multicultural Age" (2011) is on the new modes of persistence of caste in India, and his co-edited volume "Against Stigma: Studies in Caste, Race and Justice Since Durban" (2009) is on the global discourse of 'race' and caste. His current work is on one aspect of global health - the adoption of 'toilets' as a social practice in India. His approach to teaching globalization to working class and historically underprivileged students was featured in the Chronicle of Higher Education. Dr. Natrajan has several scholarly and popular essays on food and representational politics, domestic workers and dignity, democracy and ultranationalism, and caste/race and multiculturalism. He has served on the American Anthropological Association's Committee on Minority Issues, leads efforts around diversity, equity, and justice at his university, and is actively engaged in solidarity work.
Hindi Tamil
Degrees
PhD Anthropology, University of Iowa Iowa City, IA
MS Computer Science, Southern Polytechnic State University Marietta, GA
MA Anthropology, Iowa State University Ames, IA
BE Marine Engineering, Marine Engineering Research Institute (DMET) Kolkata, India
Specialization
Group formation; Caste, Race; Identity & Inequality; Culture; Development; India
Representative Publications

The culturalization of caste in India: Identity and inequality in a multicultural age; Routledge; 2011
https://www.routledge.com/The-Culturalization-of-Caste-in-India-Identity-and-Inequality-in-a-Multicultural/Natrajan/p/book/9780415857864

Racialization and ethnicization: Hindutva hegemony and caste; Ethnic and Racial Studies; Volume 44, 2021

'Why don't they use the toilet built for them?': Explaining toilet use in Chhattisgarh, Central India; Volume Contributions to Indian Sociology, 55(1), 2021

Cultural Identity and Beef Festivals: Toward a 'Multiculturalism Against Caste'; , Contemporary South Asia; Volume 26, 2018
https://www.tandfonline.com/toc/ccsa20/current

Against Stigma: Studies in Caste, Race, and Justice Since Durban; Orient BlackSwan; 2009
Representative Presentations

Castes Without Casteism? The Real Beef with Caste and 'Culture'
British Association of South Asian Studies
Nottingham, 2017

"Caste as Political Identity: Difference, Hegemony, Solidarity"
Rethinking Difference in India: Racialization in Transnational Perspective American University, D.C.
Washington D.C, VA 2019
Awards and Honors
Fulbright-Hays Group Project Abroad grant
Fulbright-Hays
06/01/2006
Media
The myth of the Indian Vegetarian Nation
http://www.bbc.com/news/world-asia-india-43581122
A news article based on my co-authored publication 'Provincializing vegetarianism"
An interview podcast on "What is Hindutva" at the Polis Project
https://www.thepolisproject.com/billionaires-are-being-produced-at-the-same-time-that-people-are-actually-dying-from-lack-of-food-in-conversation-with-balmurli-natrajan/#.XvUDHWhKg2y
As the world's largest democracy goes to the polls with 900 million voters getting ready to decide the future of the Republic, The Polis Project is speaking to scholars, writers, artists and activists about some of the most critical issues affecting India today. In this Podcast, Suchitra Vijayan speaks to Prof Balmurli Natrajan about the political and cultural history of Hindutva, it's a relationship to fascism, how caste and violence are deployed by Hindutva and what awaits the country in the aftermath of the elections.
Anthropology Course Explores the Life Cycle of, Say, Your Pen
https://www.chronicle.com/article/Anthropology-Course-Explores/129572/
Dr. Natrajan's course on "Global Transformations and the Human Condition" at William Paterson University of New Jersey uses everyday objects to teach students about globalization, development, and how different parts of the world are linked in complex and subtle ways. When he introduced the course three years ago, he had trouble filling the seats and taught as few as 10 students. Today the course has become so popular that Mr. Natrajan is planning to add a section in the spring.
Fellowships, Grants and Research
Senior Fellowship Grant
Grant


Worlds of Work: Meeting the Challenge of Teaching Asia in the 21st century" for K-12 teachers
Grant


Notable Courses Taught
Global Transformations and the Human Condition (see Chronicle of Higher Education, Oct 21, 2011, http://chronicle.com/article/Anthropology-Course-Explores/129572/

Culture, Identity, and Cognition