Christiam Camilo Fajardo
Professor • School of Nursing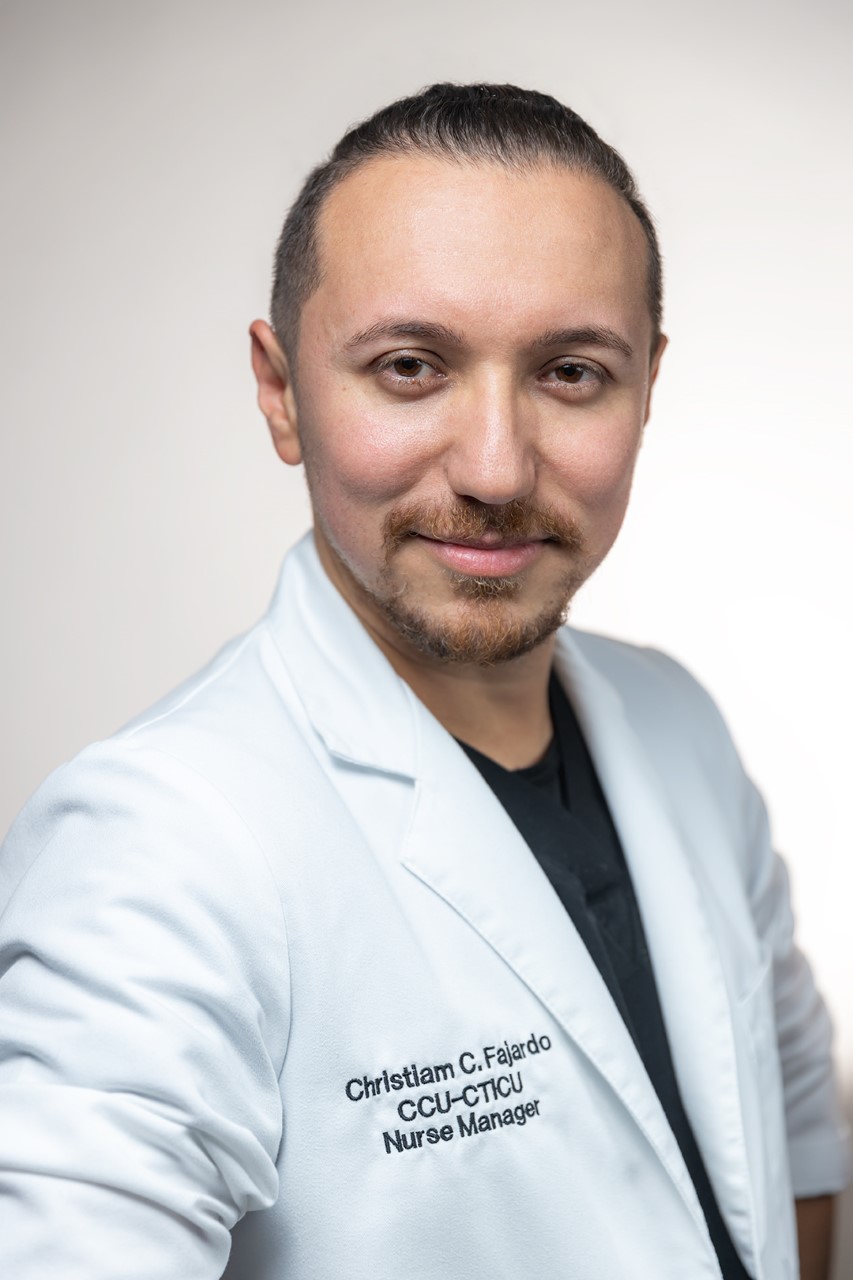 Doctor Fajardo has been practicing as a Registered Nurse for over 11 years. He is a proud alumnus of William Paterson University, where he earned his Bachelors of Science Degree in Nursing and also earned a Bachelors of Arts Degree in Spanish concurrently. Upon graduating, he joined the critical care division as a staff nurse in the Intermediate Respiratory Care Unit at St. Joseph's University Medical Center and was promoted to Nurse Manger of the Cardiothoracic and Coronary Intensive Care Unit upon achieving his Master's Degree in Nursing Administration, also from William Paterson University. Throughout his career, Dr. Fajardo has worked in different areas of intensive care including Medicial ICU, Surgical-Trauma ICU, Neurosurgical ICU and Cardiothoracic Surgery ICU. Currently, he is the Site Director of Nursing for the St. Joseph's Wayne Medical Center.

In Leadership and Management, Professor Fajardo has held positions such as ICU Supervisor, Administrative Head Nurse, and Nurse Manager. In his current role as Director of Nursing he has taken on various projects at his current place of employment inclusive of: Subject Matter Expert for Critical Care during new EMR integration, Patient Care Chair of the Value-Based Purchasing Committee, and Magnet Steering Committee to name a few. He was the winner of the 2020 March of Dimes - Nurse Manager of the Year and St. Joseph's Health -Transformational Leader Award.

Nursing leadership is his passion as evidenced by his involvement in several nursing organizations such as the American Association of Critical Care Nurses, where he currently hold Ambassador position, the Organization of Nurse Leaders, and the American Nurses Association, where he has become heavily involved work towards healthy work environments. As an advocate for nurses, he is a proponent for change and enjoys mentoring fellow nurses to pursue their professional development and their engagement in evidence-based practice. He has also created and developed the nursing succession structure and plan for the entire health system and has participated as a pannelist an active member of the Schwartz Rounds through the NJNI.

Dr. Fajardo has recently completed his doctoral degree at William Paterson University, where his research titled "Exploring the relationship between workplace violence, nurses' perceptions of workplace safety and turnover intent" forcuses on the need to establish healty work environments for the nurse and places an emphasis on care for the caretaker.

Languages (other than English)
Spanish
Degrees
Specialization
Nursing Leadership, Critical Care Nursing, Neurovascular Nursing, Surgical-Trauma Nursing, Nurse Mentoring, Healthy Work Environments