Continuing and Professional Education
Online Course Catalog
Course Cart
No courses registered.
Browse our online catalog to register.
Healthcare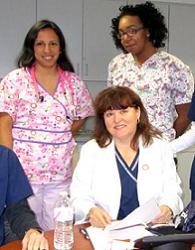 To find out more about our exciting careers in Healthcare, plan to attend our Open House on Wednesday evening from 10:00-12:00p.m. Call 973.720.2461 for directions and further information.
If we are experiencing inclement weather, please call either 973-720-3698 or 973-720-2461 any time after 7:00 a.m. to learn if the Open House will be running on schedule, delayed to a later time, or cancelled for the day.
Healthcare Professionals / Paraprofessionals

Course Name

Course #

Semester

Start Date

Status

H112

FA17

10/23/17

Closed

H005B

SP18

03/05/18

Open

In-Class Courses

Course Name

Course #

Semester

Start Date

Status

P005

FA17

10/23/17

Closed

P001

FA17

10/25/17

Closed

Online Courses

Course Name

Course #

Semester

Start Date

Status

H127

FA17

Online

Open

P020

FA17

Online

Open

P017

FA17

Online

Open

H139

FA17

Online

Open

H138

FA17

Online

Open

H142

FA17

Online

Open

H137

FA17

Online

Open

H135

FA17

Online

Open

H006

FA17

Online

Open

H140

FA17

Online

Open

P021

FA17

Online

Open

P019

FA17

Online

Open

P018

FA17

Online

Open

H146

FA17

Online

Open

H136

FA17

Online

Open

H131

FA17

Online

Open

H130

FA17

Online

Open

H134

FA17

Online

Open

H133

FA17

Online

Open

H132

FA17

Online

Open

H129

FA17

Online

Open