Continuing and Professional Education
Online Course Catalog
Course Cart
No courses registered.
Browse our online catalog to register.
Teachers and Education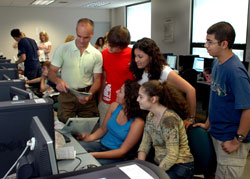 William Paterson University is committed to providing quality programs to enhance teacher development and continuing education. Our goal is to engage the education community in an ongoing dialog about effective teaching practices that will enable all students to reach their full potential as learners.
Our Institute for Teaching, Learning, Learning and Leadership faculty is available to tailor professional development for your school or district. The University is an approved provider of professional development for the State of New Jersey. For information about professional development opportunities for teachers, contact Jessica Snell at 973.720.3709 or snellj3@wpunj.edu
Download WPU Spring 2016 COE Catalog
Conferences and Institutes

Course Name

Course #

Semester

Start Date

Status

E050

FA17

11/03/17

Open

E050B

FA17

11/03/17

Open

E050B

FA17

11/03/17

Open

E327

FA17

12/01/17

Open

E327B

FA17

12/01/17

Open

Elementary and Middle School

Course Name

Course #

Semester

Start Date

Status

E110B

FA17

10/18/17

Closed

E110

FA17

10/18/17

Closed

E112B

FA17

11/01/17

Open

E112

FA17

11/01/17

Open

Middle School and Secondary Education

Course Name

Course #

Semester

Start Date

Status

E347B

FA17

10/30/17

Open

Pre-K Through Grade 12

Course Name

Course #

Semester

Start Date

Status

E109B

FA17

10/12/17

Closed

E109

FA17

10/12/17

Closed

E389

FA17

10/18/17

Closed

E389B

FA17

10/18/17

Closed

E313B

FA17

10/24/17

Open

E313

FA17

10/24/17

Open

E115B

FA17

11/16/17

Open

E115

FA17

11/16/17

Open

Professional Development for Teachers

Course Name

Course #

Semester

Start Date

Status

E111B

FA17

10/25/17

Closed

E111

FA17

10/25/17

Closed

E356B

FA17

11/01/17

Open

E356

FA17

11/01/17

Open

E113B

FA17

11/14/17

Open

E113

FA17

11/14/17

Open

E114B

FA17

11/15/17

Open

E114

FA17

11/15/17

Open

E315B

FA17

11/16/17

Open

E315

FA17

11/16/17

Open

E116B

FA17

11/30/17

Open

E116

FA17

11/30/17

Open

E117

FA17

12/05/17

Open

E117B

FA17

12/05/17

Open

E350B

FA17

12/07/17

Open

E350

FA17

12/07/17

Open