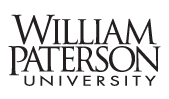 Center for Continuing and Professional Education
Understand the Sales Process - Online Course 2/27/13
Selling is a process. If you understand the process, you realize that you can actually control and direct this process. This program will give you a fundamental understanding of the stages that a prospect goes through when deciding who to buy from. With that understanding, you are better able to have that prospect choose you.
Instructor : Joe Graziano
Dates : 02/27/13
Days : Online
From : -
Fee : $ 75.00
Course Number : B068

Not available for registration at this time please call 973-720-2354 for future dates.
Request More Information
Thank you for your interest in our programs. To get more information and special offers please sign up below.
Benefits Include :

- special discounts
- early information on new courses
- priority registration
William Paterson University
300 Pompton Road
Wayne, New Jersey 07470
877-978-3923