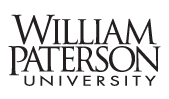 Center for Continuing and Professional Education
Curriculum Development and Physical Education Yearly Plan Execution 3/3/14, 3/10/14
This two-part seminar is designed to provide K-8 teachers with: Key components needed for the maintenance of the adopted physical education curriculum; Implement the age-appropriate, student centered, and standards-based curriculum at respected schools; Plan logical sequenced instruction and write clear appropriate unit and lesson plans that demonstrate mastery of content knowledge as they relate to the district-adopted curriculum; Create continuity among all schools by teaching from the same sequenced curriculum aiming to reach the same overall goal of developing lifelong healthy and active individuals.
Instructor : Michael Hodges, PhD., Assistant Professor in Kinesiology, WPU
Dates : 03/03/14 to 03/10/14
Days : Mon
From : 4:30 pm - 7:30pm
Fee : $ 80.00
Course Number : E269

Not available for registration at this time please call 973-720-2354 for future dates.
Request More Information
Thank you for your interest in our programs. To get more information and special offers please sign up below.
Benefits Include :

- special discounts
- early information on new courses
- priority registration
William Paterson University
300 Pompton Road
Wayne, New Jersey 07470
877-978-3923