Youth Programs Registration
Use the Form Below to Browse and Register for Youth Programs
Course Cart
No courses registered.
Browse our online catalog to register.
« Back to Programs
25th Annual Jazz Workshop (Resident) 7/15-7/21/18
Experience an Award-Winning Jazz Tradition!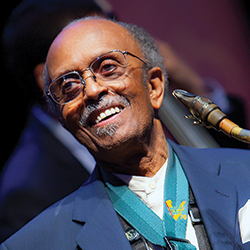 Jimmy Heath
Artist in Residence
Director:
Timothy Newman

Resident Faculty:
Cecil Bridgewater
Charlie Dougherty
Steve La Spina
Marcus McLaurine
James Weidman
July 15-21, 2018 — one week workshop
25th Annual SUMMER JAZZ WORKSHOP for high school and college students.
Seven intense days of improvisation and performance for students, age 14 and older
Open to commuters and residents
Classes in improvisation, arranging, and jazz history
World-renowned artists in nightly clinics and concerts
An evening at a legendary New York City jazz club
A final concert with students and resident faculty
Tuition scholarships available
Whether you commute or reside on campus, you may take advantage of the University's practice facilities, food court and cafeteria, and recreational activities.
Previous Performing Artists/Clinicians: Dr. Billy Taylor, Clark Terry, Mulgrew Miller, Jon Faddis, Slide Hampton, Vanessa Rubin, Lou Donaldson, David "Fathead" Newman, Curtis Fuller, Byron Stripling, Bob Mintzer, Paquito D'Rivera, Renee Rosnes, Chris Potter, Billy Drummond, Al Grey, Jimmy Heath, Frank Wess, Dafnis Prieto, and Dena DeRose.
The William Paterson Summer Jazz Workshop is sponsored by: the School of Continuing and Professional Education, the Department of Music, and the College of the Arts and Communication.
Instructor :
Dates : 07/15/18 to 07/21/18
Days : Sun,Mon,Tues,Weds,Thu,Fri,Sat
From : 9:00am - 9:00pm
Fee : $1384.00
Course Number : HS404R

Class is full at this time please call 973-720-2354 to be placed on a waiting list
« Back to Programs