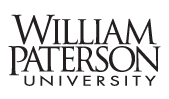 Center for Continuing and Professional Education
Robotics 7/21-7/25/14
Put your robot to the test with maze races, "battlebot" tournaments, and other exciting challenges. Design, assemble, and program robots that will be able to communicate, move, and think!
Instructor :
Dates : 07/21/14 to 07/25/14
Days : Mon,Tues,Weds,Thu,Fri
From : 9:00 AM - 12:00 PM
Fee : $ 279.00
Course Number : MS305

Not available for registration at this time please call 973-720-2354 for future dates.
Request More Information
Thank you for your interest in our programs. To get more information and special offers please sign up below.
Benefits Include :

- special discounts
- early information on new courses
- priority registration
William Paterson University
300 Pompton Road
Wayne, New Jersey 07470
877-978-3923